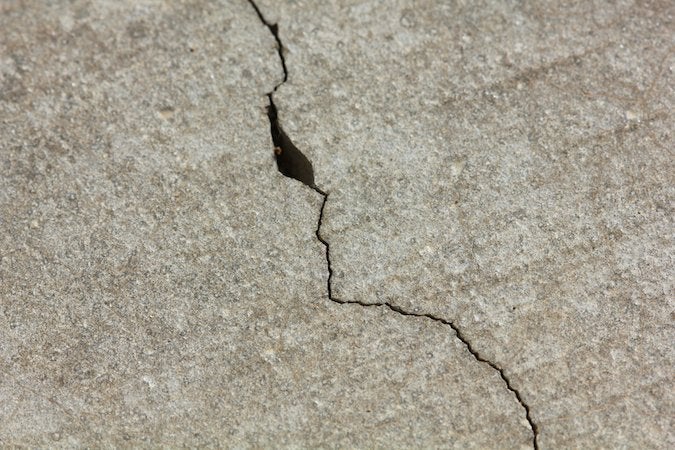 Do you need a concrete patio deck renewal?
Upgrading your concrete patio deck might not be the first repair you think of for your home, but it could save you hundreds, if not thousands, in construction costs down the line.
If you've landed here, chances are you are already on the hunt for a concrete patio repair provider.
However, if you're not sure your patio needs an upgrade, we've outlined eight signs it does in the article below.
In the following post, learn about the most common signs you need concrete patio deck repair services and a straightforward solution that can save you a big headache in the future.
Let's dive right in!
Not Sure If Your Concrete Patio is Ready for An Upgrade? Here Are 7 Signs It IS!
Concrete is the most widely used material in the world, with more than 500 million tons of it being used in the U.S. alone. Concrete patios serve as the foundation for good times and outdoor décor. Don't sell your outdoor features short by letting your concrete break down and deteriorate. Keep these eight telltale signs of severe damage in mind.
Large Cracks
Have you spotted cracks forming on your concrete deck? Minor cracks are predictable and shouldn't be a cause of severe concerns. However, if cracks start to form, it could lead to more significant issues.
For example, weeds can pop up between the cracks, expanding them further. Moreover, water can quickly get in between cracks with an expanded opening. When the temperature drops and the water freezes and subsequently thaws, this causes pressure on your concrete and creates more gaps.
The size of any cracks forming on your concrete is equally essential. Sometimes patching or sealing cracks works. But if the gaps are large enough, it could be time for a serious concrete patio deck repair. If your concrete's cracks are more extensive than half an inch, it's time for repairs.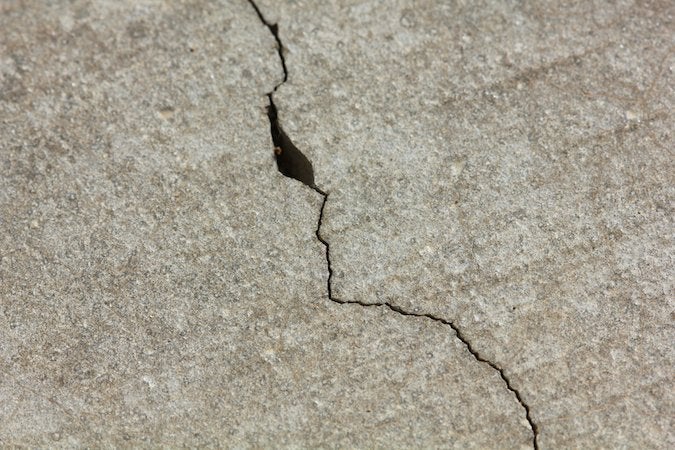 Water Pooling
Standing water is a concrete paver's nightmare—and it should be yours, too!
Standing pools of water building up on your patio is the clearest indication that you have drainage problems under the surface. Water should always drain off properly from your concrete patio; if it doesn't, it causes damage.
Water is destructive. It's a primary problem for all types of concrete masonry.
Before you install any concrete patio, ensure that drainage is a primary concern; otherwise, you'll end up with an unwanted pool on your patio.
Keep this in mind when you're also deciding on concrete patio finishes.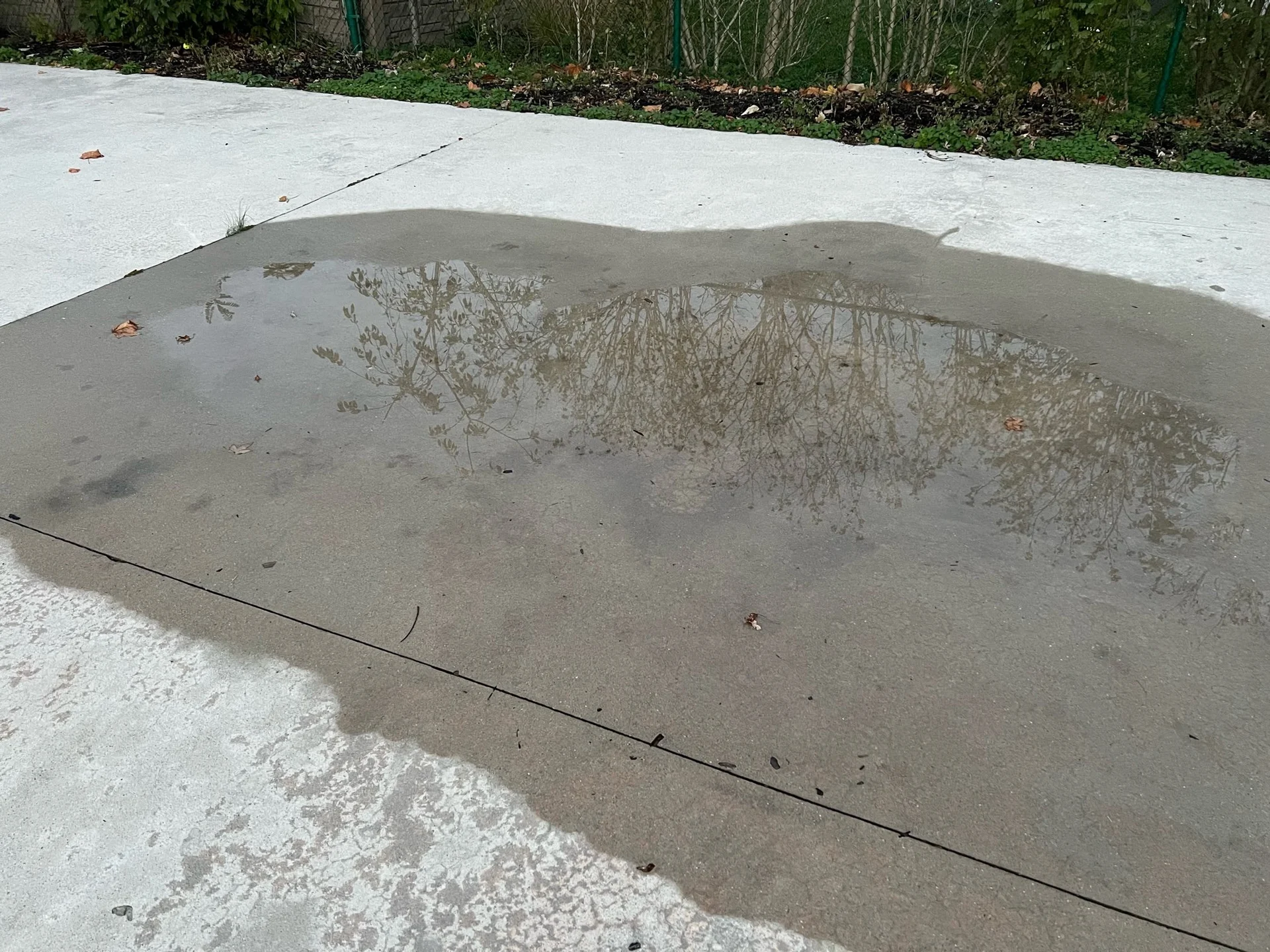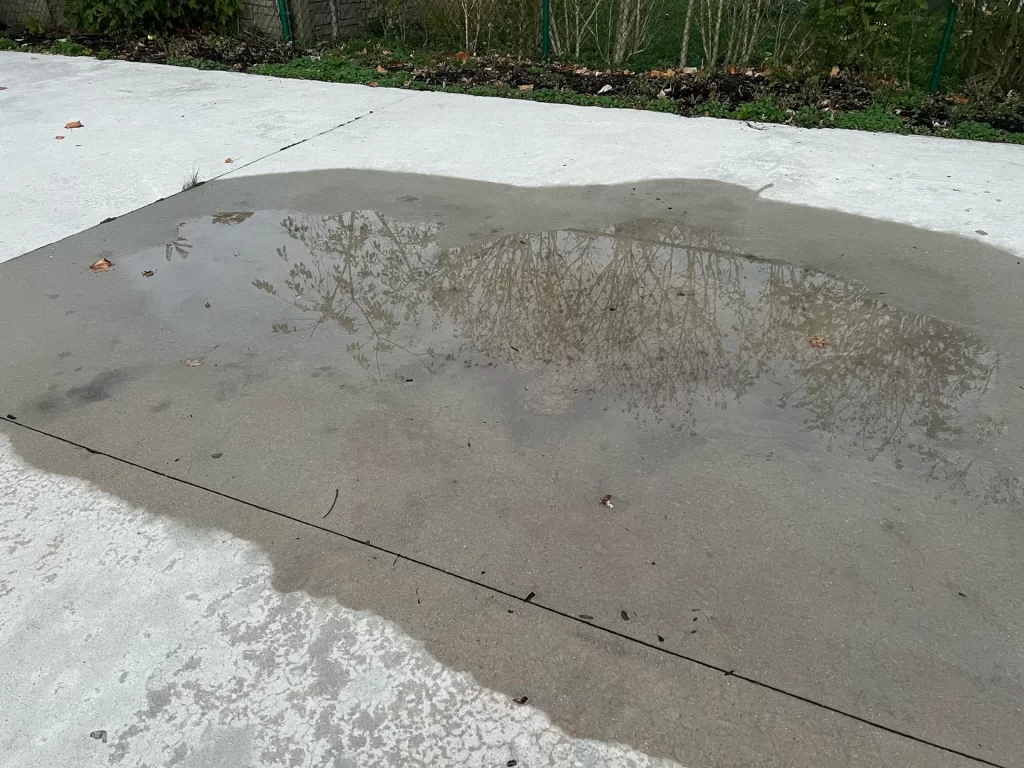 Aging Concrete
Even the best patios eventually age and deteriorate. However, that doesn't mean you'll have to replace your concrete patio at the first sign of age.
This is why concrete maintenance is critical. Concrete patio repair services help maintain the look and strength of your concrete. Maintenance like waterproofing, resurfacing, and seal coating help your patio stay in good condition.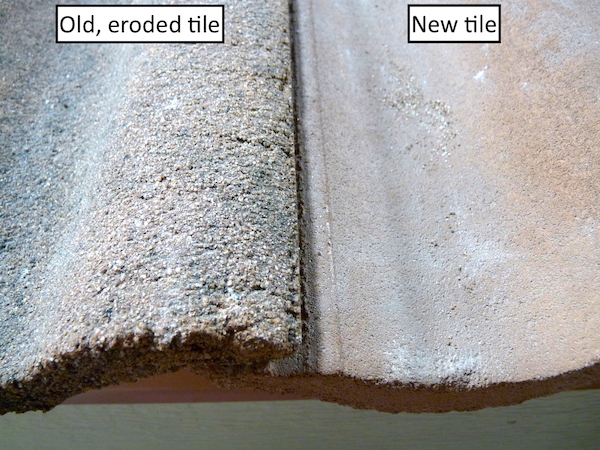 Flaking and Spalling
One of the most common signs of concrete needing repairs is flaking or chipping on the external layers.
This often happens on concrete in high-traffic areas, including around a pool. It can often occur when your concrete is poured incorrectly.
Another reason why flaking and spalling is dangerous is that they can lead to hazards. Concrete patio deck renewal can salvage your concrete patio and ensure that it stays healthy and lasts longer than if you were to leave the issue untreated.
A concrete repair specialist can help you repair your concrete quickly and without more severe issues.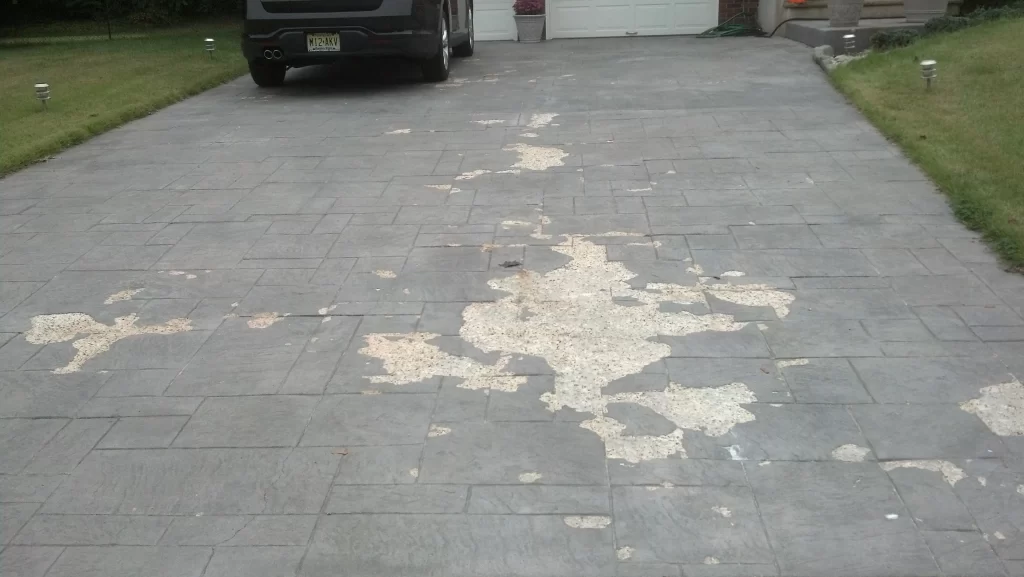 Potholes and Pitting
Potholes and pitting show that your concrete is weakening. This can lead to significant structural and accidental problems.
Pitting and potholes exist because the ground under the concrete is expanding in an unhealthy way.
Traffic, poor weather conditions, and even specific corrosive chemical agents can all lead to potholes and pitting in your concrete patio.
Repairing your potholes is pretty simple but only works for a short time. A much better solution is to resurface your concrete and contact a professional contractor to work with you on the process.
However, if you really want to avoid potholes and pitting, make sure your concrete patio deck is coated in a solution designed to maintain it. We'll discuss our recommended solution in just a bit.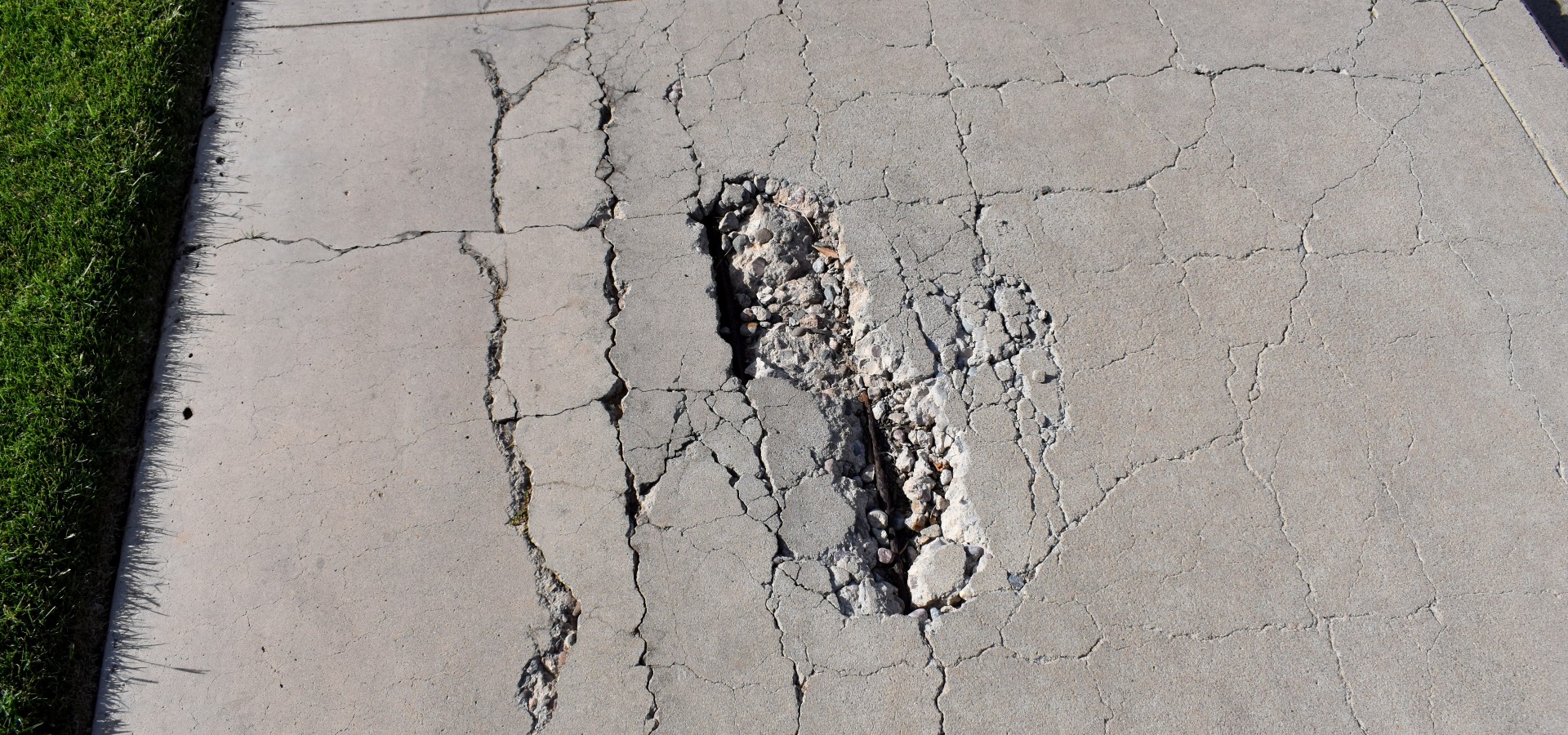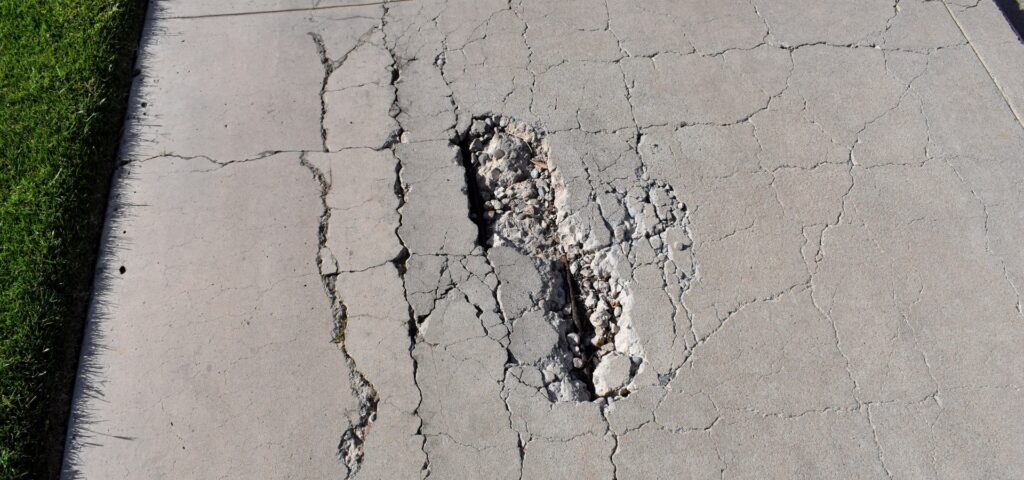 Sunken Concrete
Sunken concrete is another sign of significant damage. Concrete that sinks typically does so because water is not drained from the concrete properly. Erosion of the foundation leads to damage to the surface, accidental hazards, and, eventually, structural problems.
If you've noticed a sinking in your concrete, it could be time for a concrete patio repair. Often times you can resurface the patio, but you may also need to redo your patio if the sinking is bad enough.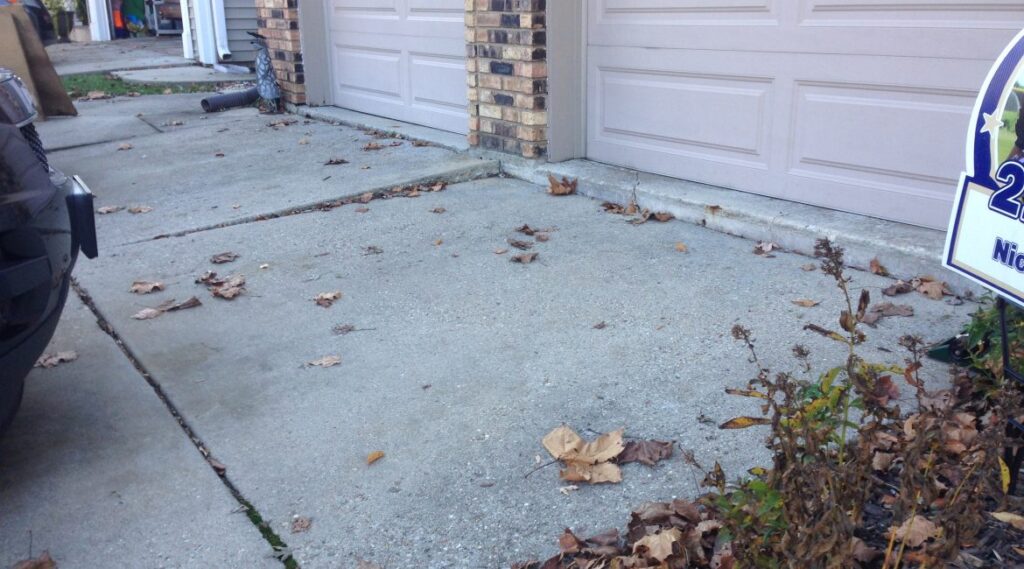 Uneven Slabs
Uneven slabs are another reason you might need concrete patio deck repair services. Signs of uneven concrete could be due to a subgrade problem or be due to drainage system issues that eventually lead to surface erosion.
Reach out to a professional contractor for help in determining the best way to approach uneven slabs in your concrete patio. You might be surprised by the solution.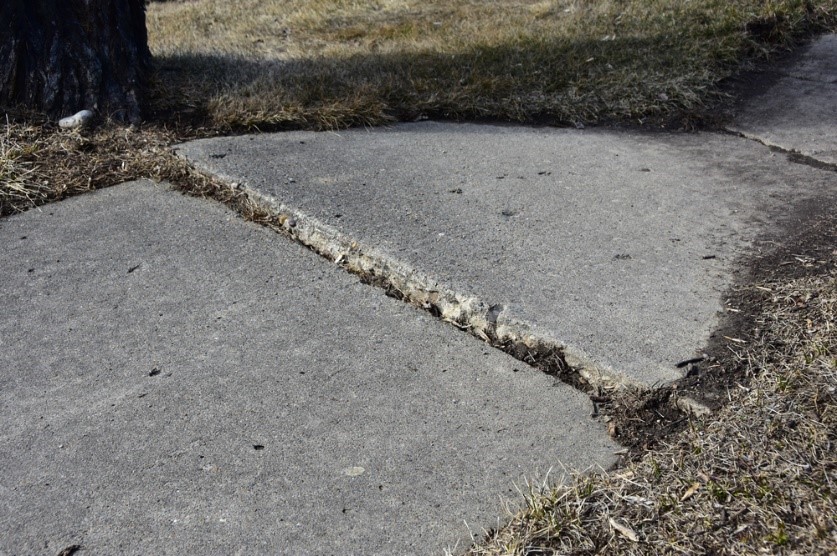 Why You Should Consider Polyaspartic Concrete Coating for Your Patio.
Polyaspartic Concrete is a type of flooring that offers concrete better coverage and protection. Polyaspartic coatings have grown in popularity in recent years, despite having been around for over two decades.
A few reasons why so many concrete experts recommend polyaspartic coating include its resistance, easy of maintenance, color designs and style options, and fast installation. Polyaspartic dries within 3 hours, giving you a convenient and more efficient way to protect your concrete patio from ongoing repairs. And since we live in Florida, that drying time is incredibly important with high humidity.
Polyaspartic can be used on outdoor concrete patios, pool decks, garages, exteriors, and much more. If you've noticed one or more signs of your concrete patio needing repairs, we'd love to hear from you. Our deck coating services for concrete decks give you peace of mind and protect your concrete from further problems.