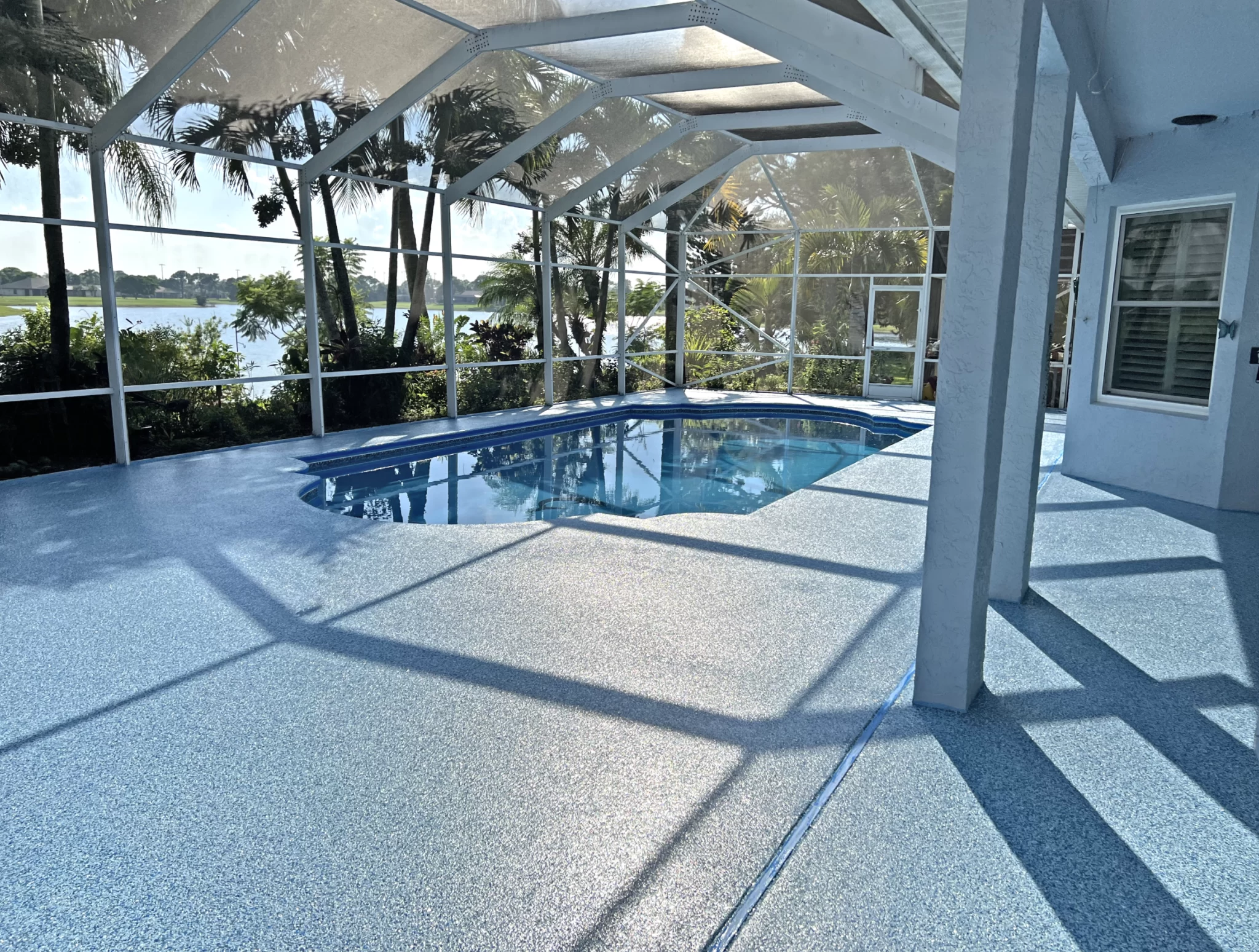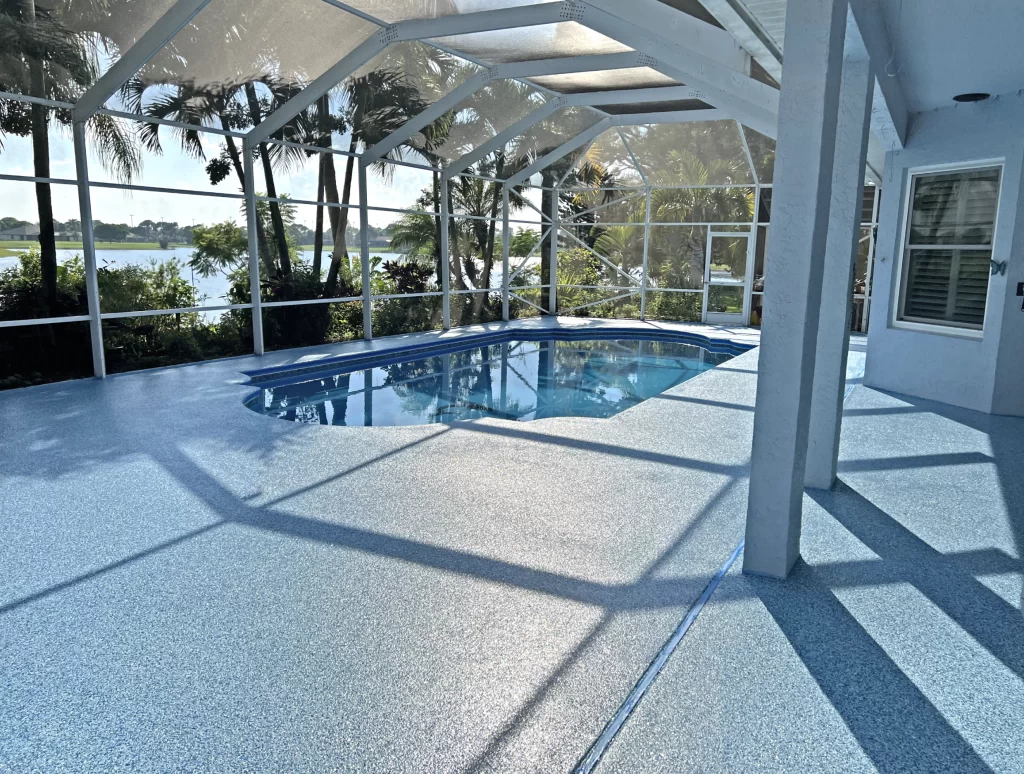 What is the best flooring for a pool deck?
Looking for the best flooring for your pool deck, you'll find different types of options. The main goal it's to choose a material that won't get damaged by water and will last as long as possible. We have some selected information so you can choose between the wood, vinyl, and concrete and choose the one that fits your needs the best.
Vinyl
If you're looking for a flooring material that's easy to clean, durable, and easy to maintain, vinyl is the way to go. It's also an excellent choice if you live in an area with high humidity or extreme temperatures because it won't crack or fade under those conditions.
Vinyl floors are available in many shades of colors and styles, so you can choose something that matches your home's decor perfectly. They're also easy to install by yourself; merely lay them over the top of the existing decking material (usually concrete) and attach them with nails or staples every few inches along each edge of the tile piece being installed. Done, and the best: No need to use glue.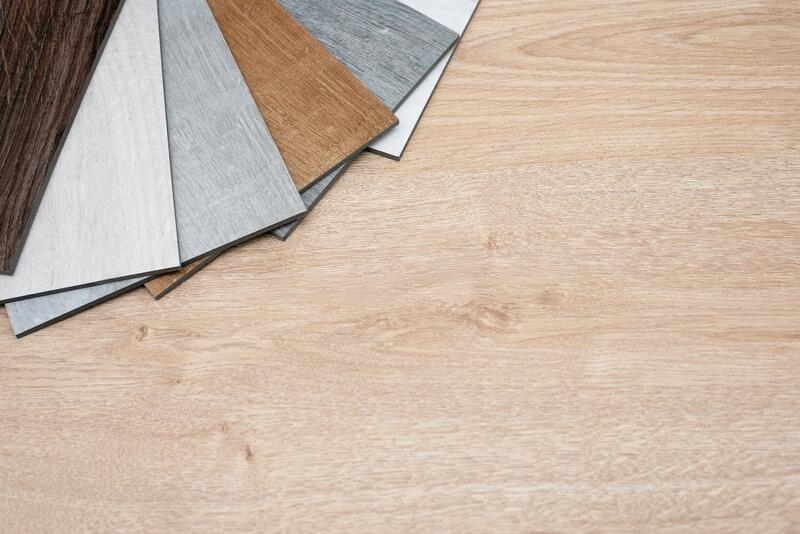 Wood
Wood is a good choice for pool decks. It's a natural material, which means it will be more durable than other types of flooring and easier to maintain. Wood is also expensive, but if you pretend to be spending time around your pool regularly and want something that looks good at all times, wood may be your best option.
Wooden decks can be slippery when wet— especially if they're stained rather than left unfinished—so make sure to add mats around the edges of your floor, to avoid people falling off!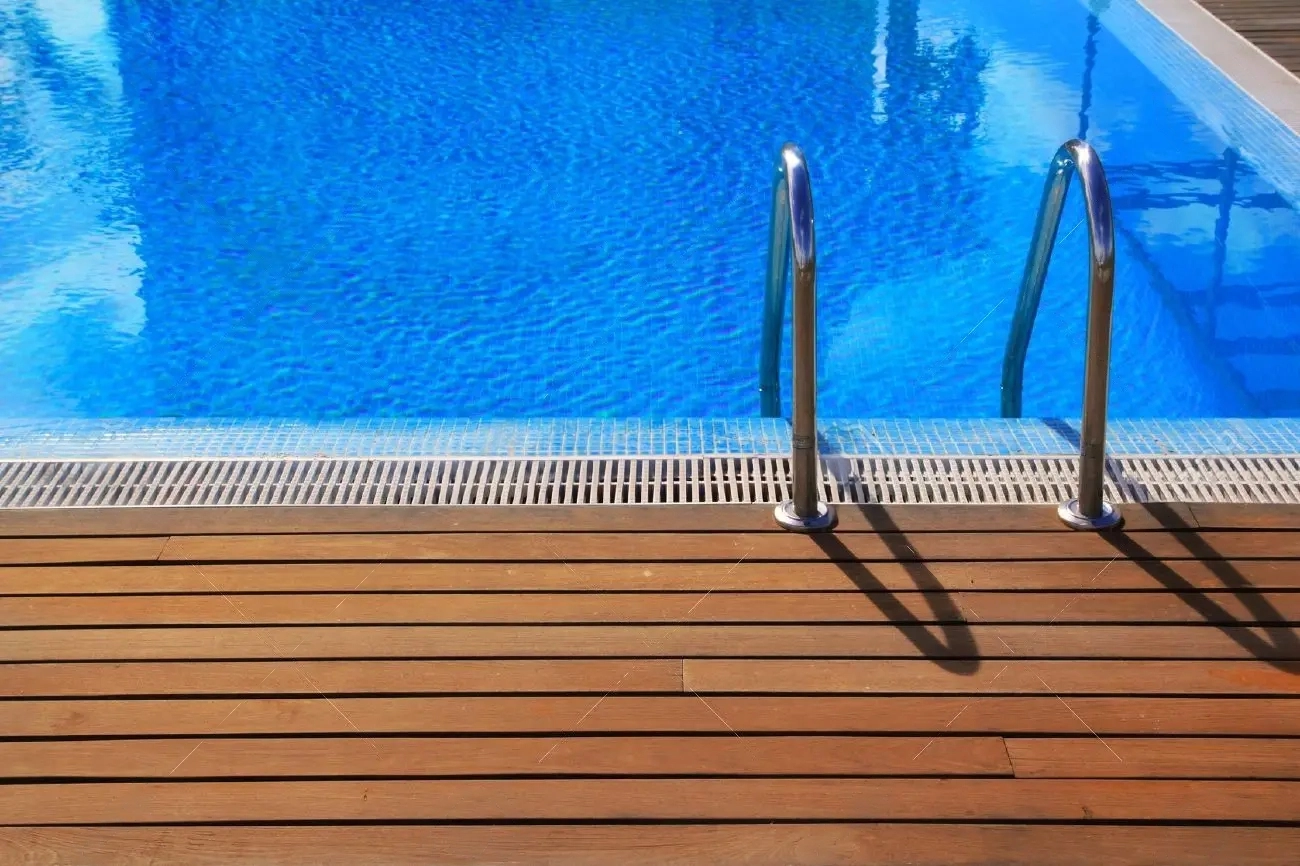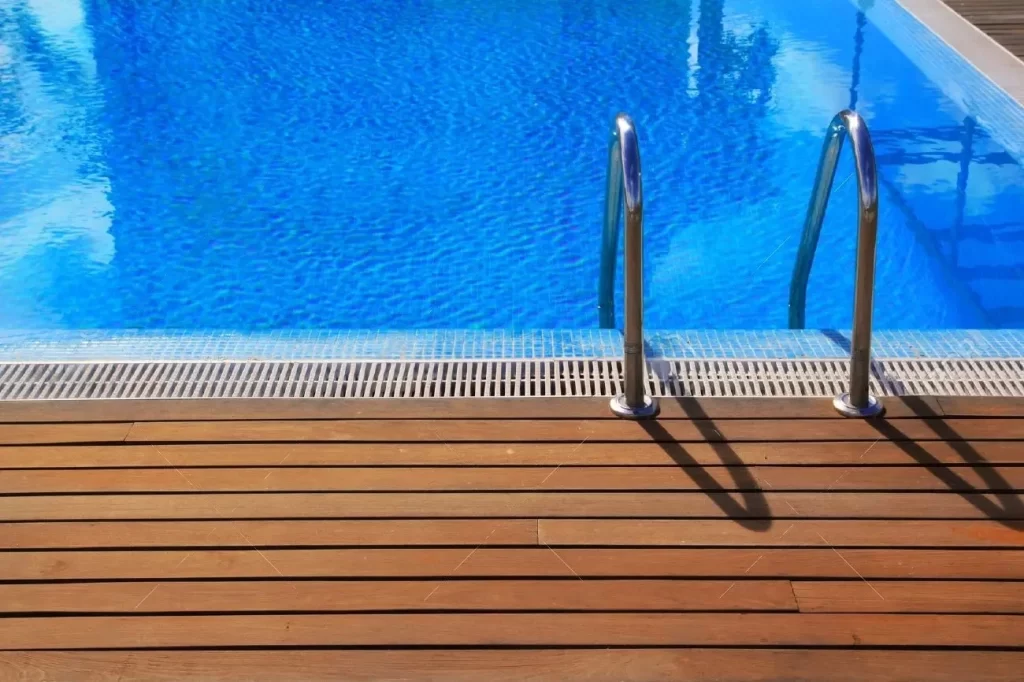 Concrete
Concrete is a good choice for pool decks. It is durable, low-maintenance, and can be stained, coated, or painted. It can be polished to a high shine.
Concrete floors provide excellent slip resistance and are waterproof, making them ideal for areas around pools where water may be present. Concrete floor coatings are resistant to UV rays (which helps prevent discoloration over time) as well as fading from sun exposure.
For those looking for an affordable option that offers durability and longevity while being easy to maintain, concrete is the right choice!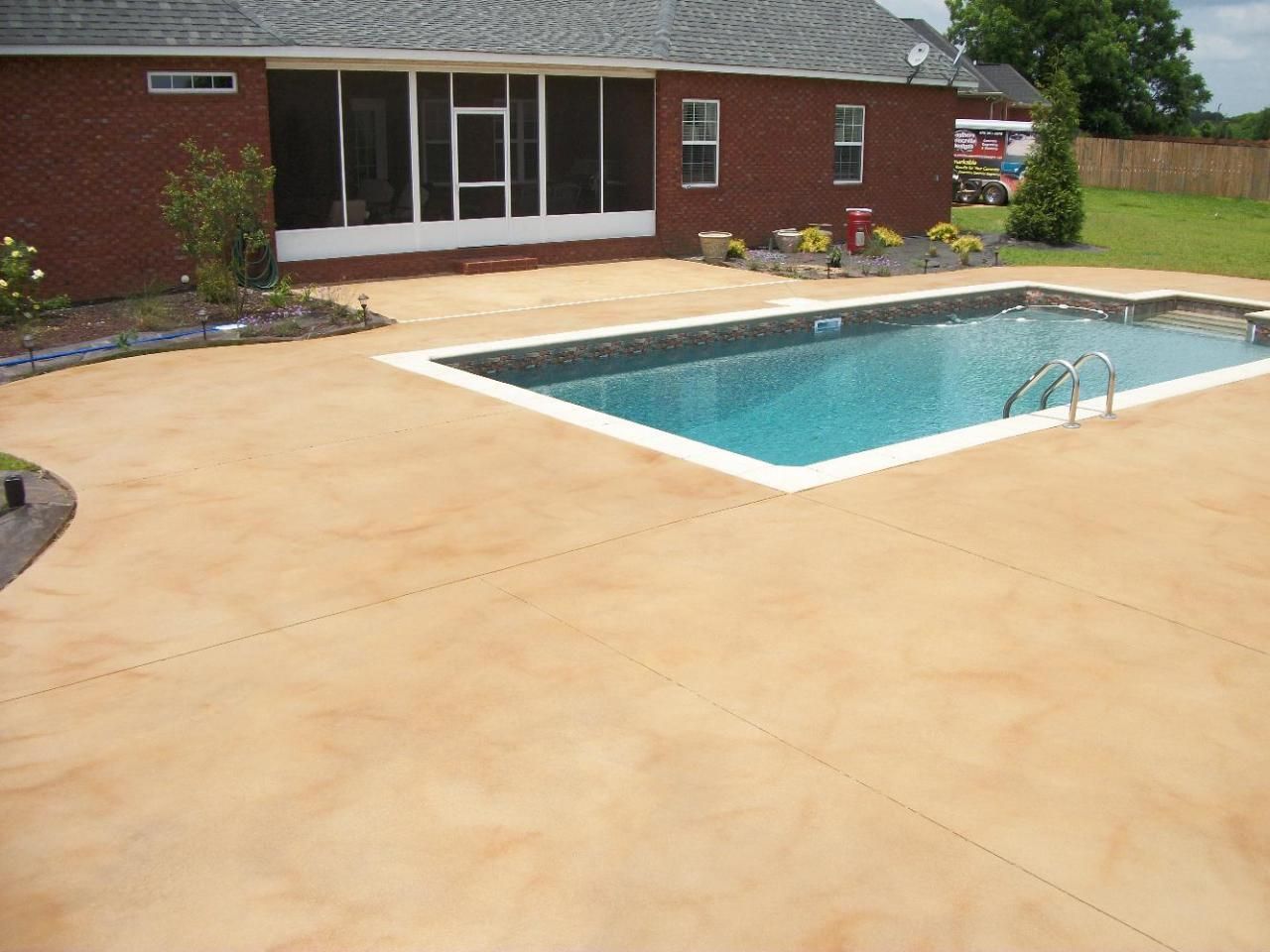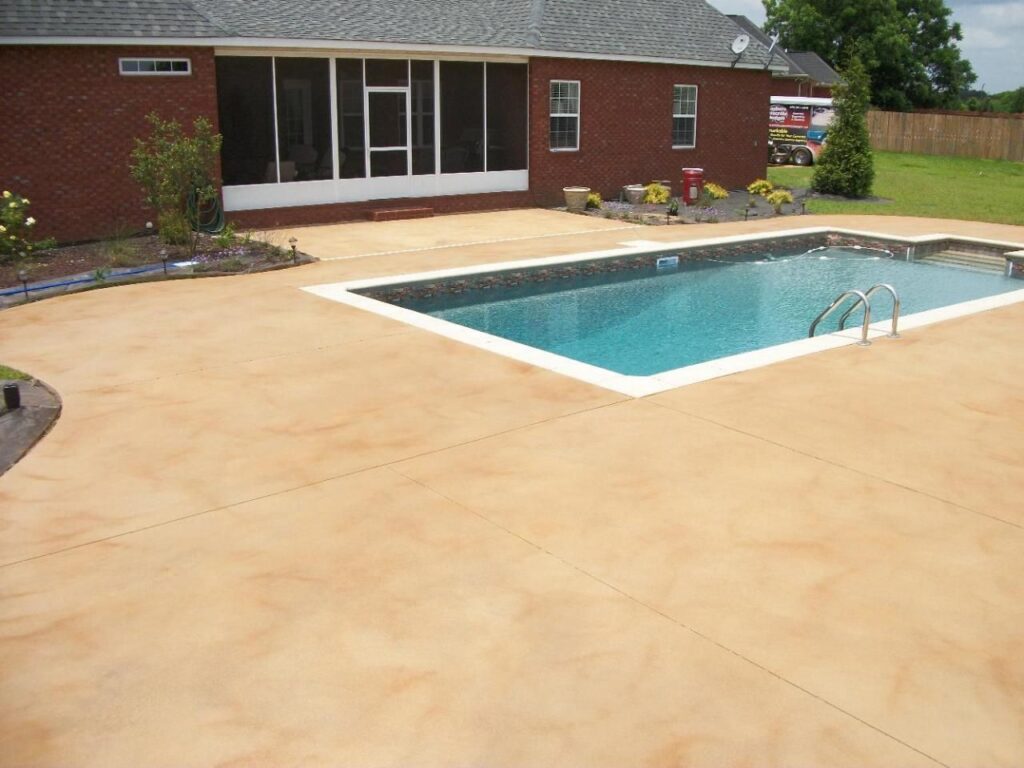 With a polyaspartic floor coating, you can seal your pool deck and keep it looking new.
If you're looking for an easy-to-clean, durable, and affordable floor coating for your pool deck, polyaspartic is the way to go.
Polyaspartic floor coatings are perfect for pool decks because they're resistant to chipping, cracking, to UV rays, it does not turn yellow in the sun, has no chemical odors and has a curing time of 3 hours. They also resist staining from oils and other substances that could damage other types of floors. Polyaspartics are very easy to clean—just sweep or vacuum over them! If dirt does get stuck between the tiles, simply remove it with a soft bristle brush to avoid damaging the finish underneath.
The cost of polyaspartic floor coatings varies depending on what brand you choose; however, they tend to be less expensive than other options such as tile or stone because they don't require laborious installation procedures like grouting (which requires special tools
Conclusion
The best flooring for a pool deck is the one that will withstand the wear and tear of constant exposure to moisture, heat, and cold, as well as UV rays from the sun. Could be achieved by using either vinyl or concrete, but if you want something more natural in appearance, then wood may be your best option.
There are many options out there, so make sure you do your research before making a decision.
Here's one last extra tip: if you are looking for protection against the sun's rays, custom color and a lifetime guarantee, polyaspartic is that option! Ox Floors can give you a free quote and following this will be added a CTA that has a sign up form
We hope we have given you some tools to reflect on when deciding on a flooring option!